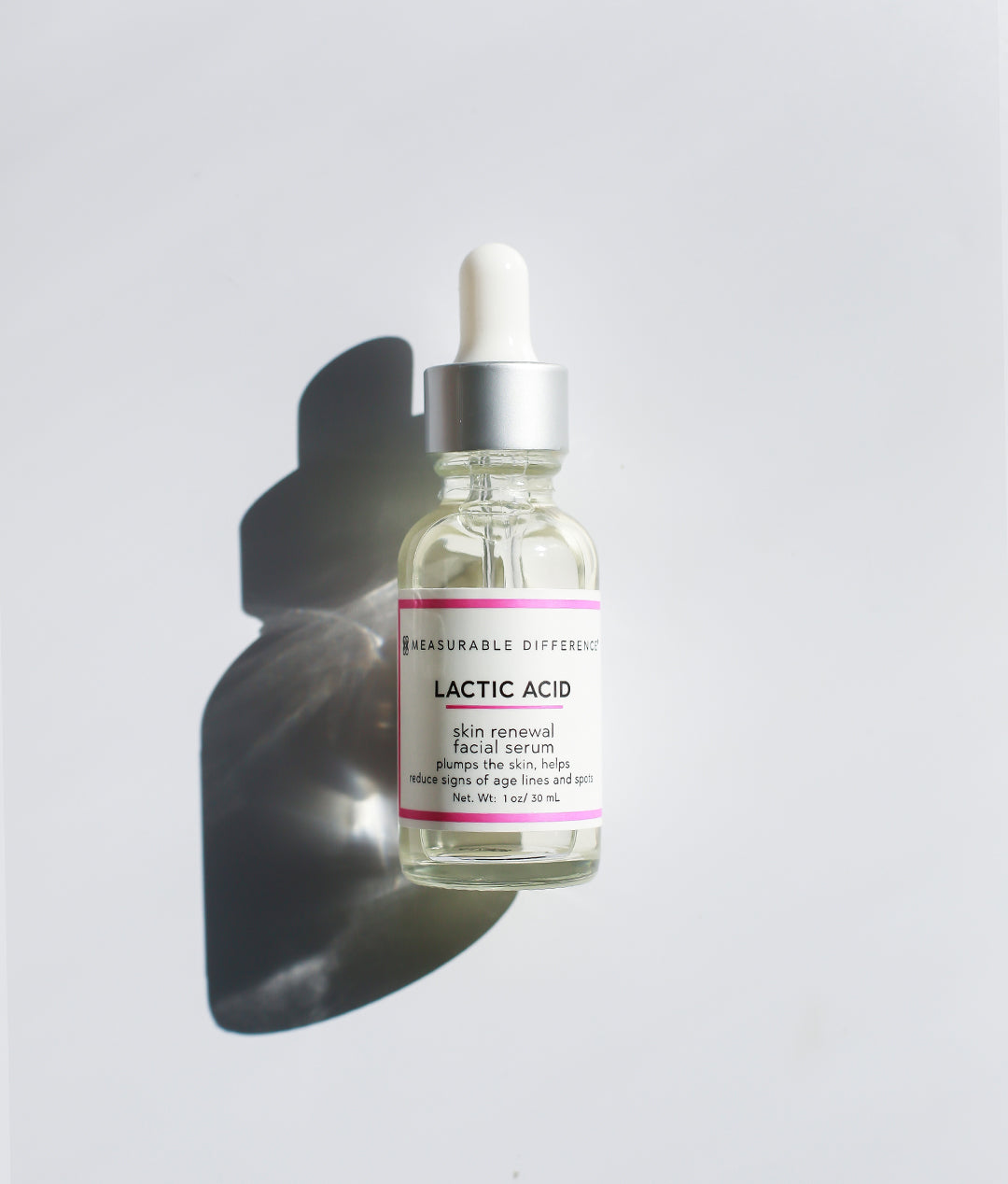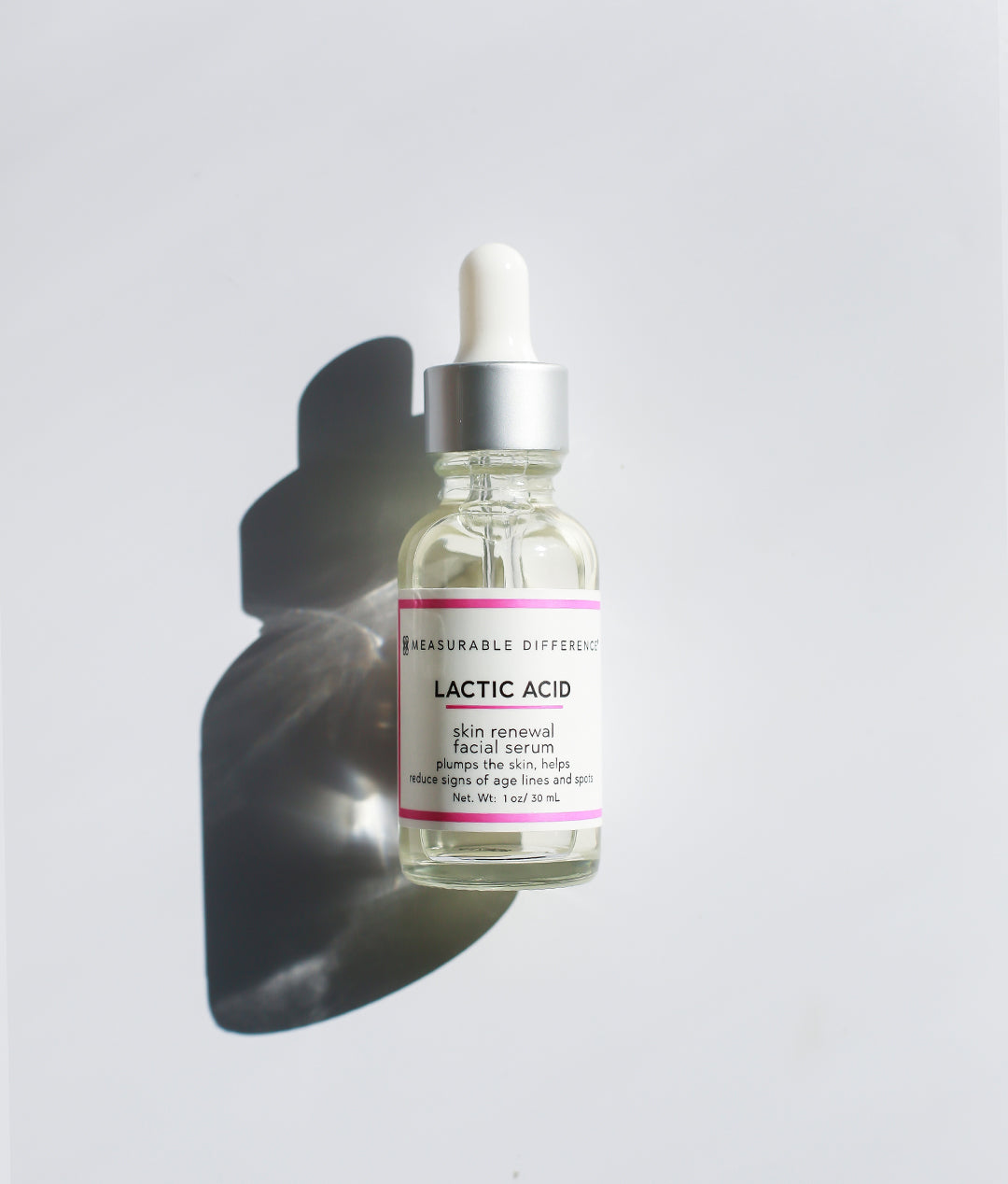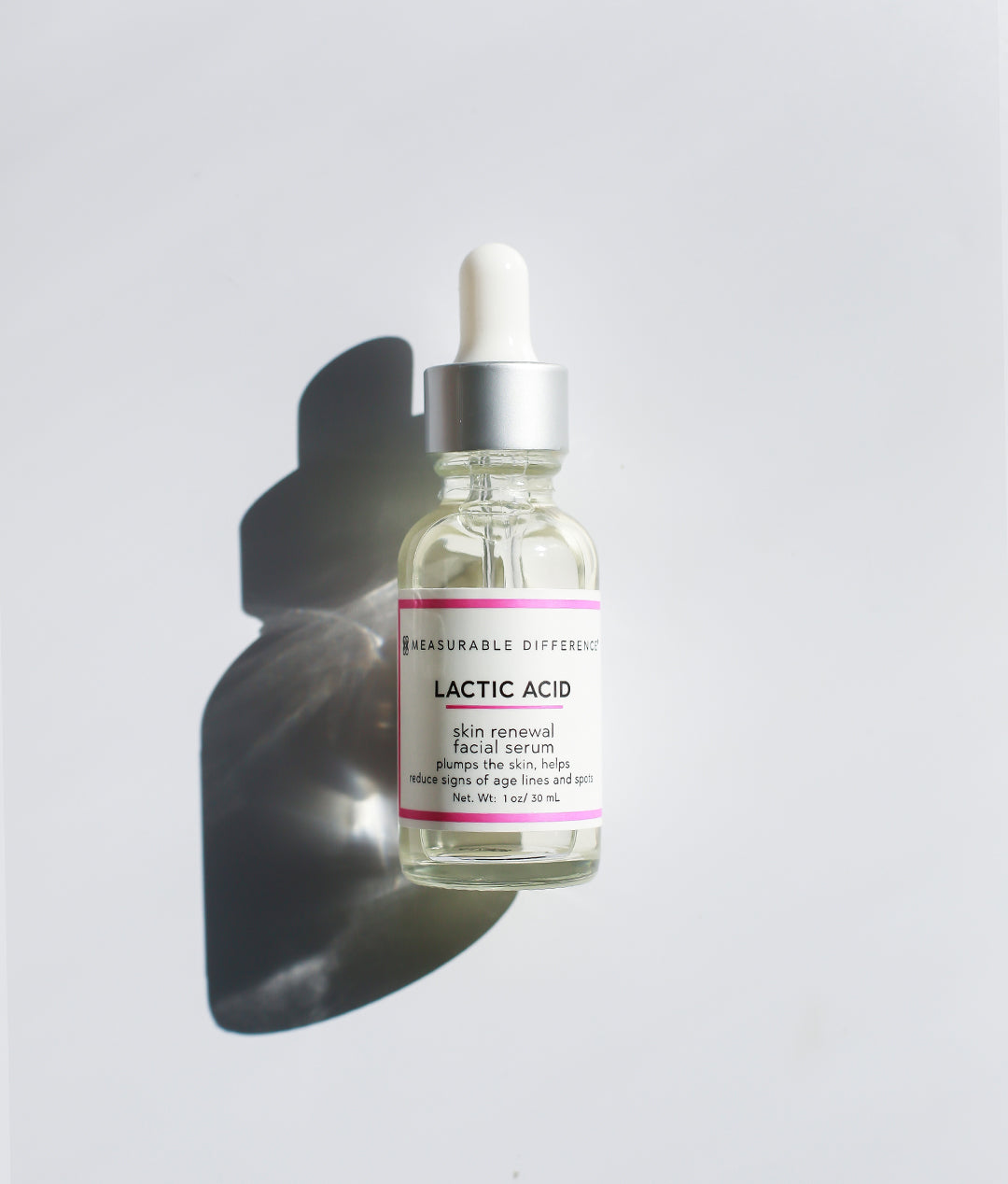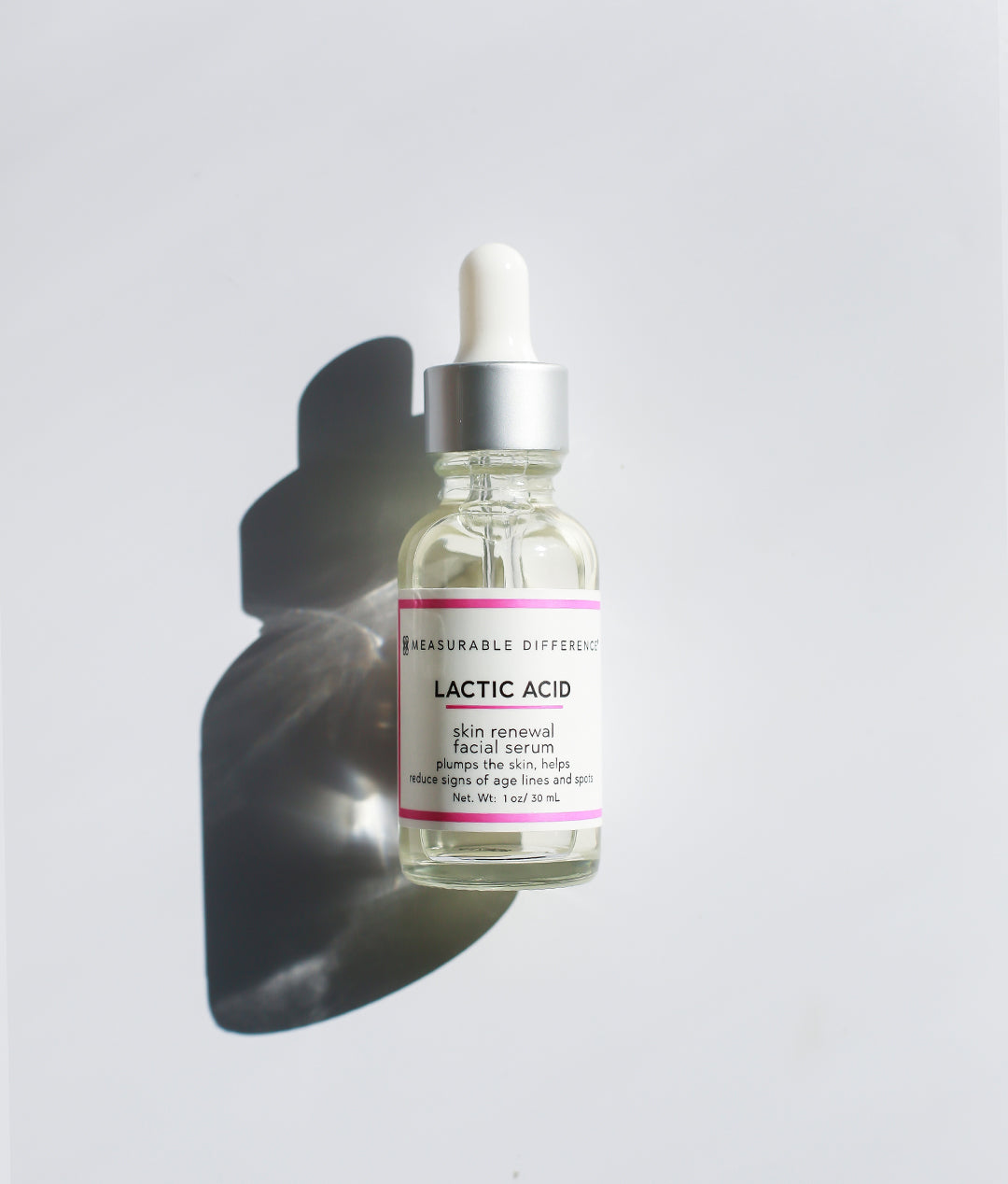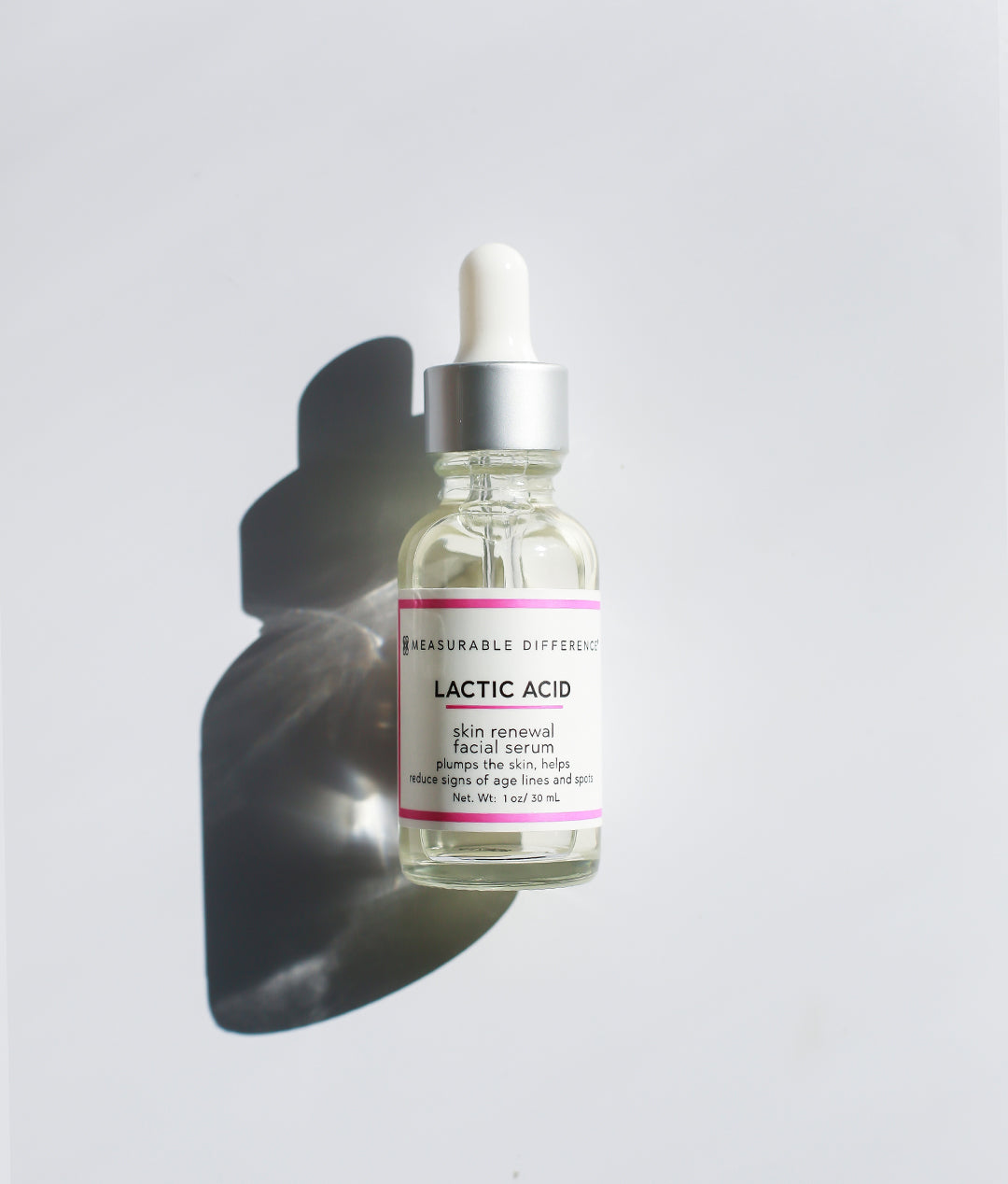 Lactic Acid Skin Renewal Serum
OUR MEASURABLE DIFFERENCE
An all-in-one exfoliating and hydrating serum that encourages topical exfoliation from Lactic Acid, debris and decongesting benefits from Salicylic Acid, and hydrating, moisture strengthening Coconut Water.
 HOW TO USE
Apply a few drops after cleansing and toning steps before moisturizer as part of your twice daily skincare routine.
 ESSENTIAL INGREDIENTS + BENEFITS
LACTIC ACID: A fast moving AHA that helps to even the complexion.
SALICYLIC ACID: A BHA that helps to decongest pores from dirt and debris.
COCONUT WATER: A soothing hydrator that supports the skins moisture barrier.
 CONCERNS WITH
Texture, Fine Lines, Dull Skin
 WHAT SKIN TYPES
Suitable for all skin types
 WHEN TO USE
AM/PM
After cleansing and toning steps
 KEY INGREDIENTS: Aqua (Water), Polysorbate-20, Brown Seaweed Powder Extract, Hydrolyzed Collagen, PEG 25 Hydrogenated Castor Oil, Chlorella Emersonii Extract, Cocos Nucifera (Coconut) Fruit Juice, Phenoxyethanol, Sodium Hyaluronate, Caprylyl Glycol, Sodium PCA, Salicylic Acid, Lactic Acid, Sorbic Acid, Bisabolol, Astaxanthin, Fragrance.
Please be aware that ingredient lists may change or vary from time to time.
Please refer to the ingredient list on the product package you receive for the most up to date list of ingredients.
It Works!
The best serum that I've tried! My daughter is now also a huge fan.
Love the product💕
Immediate feel the product working, really smooths out the areas it is applied too. Use mainly for neck, face and back of hands. 😎
Couldn't be better
After using this serum for about a year, I have nothing bad to say about it. It works extremely well and will continue to be a mainstay in my weekly rotation.
Powerhouse Serum!
This is the newest rising star in my serum collection! Claims to plump the skin AND BOY-OH-BOY does it ever deliver on that promise! Powered by Lactic Acid, Salicylic Acid & Coconut Water, this little beauty has been so beneficial to my skin!
Quickly fixed
I had some issues with the shipping and I never had a compagny fixing the problem as fast as Measurable Difference.
I'm head over heels about the Lactic Acid Skin Renewal Serum. Will buy again!
Lactic Acid Skin Renewal Serum
I love this Lactic Acid
This product has been a staple of mine for years. It will always be part of my skin care routine. My skin is firmer and brighter because of it.
Great product 💜
I really love this serum…my skin looks great because if it!
Love this product
My Love for this product is unimaginable. It has done wonders for my skin. It keeps my acne prone skin clear and radiant. Love love it.
Skincare Staple
Wonderful product that applies without leaving face oily. I have very sensitive skin and this product is VERY gentile. I got this item first in a subscription box I used it everyday and quickly fell in love. I have since purchased more and continue to use it in my daily skin routine!