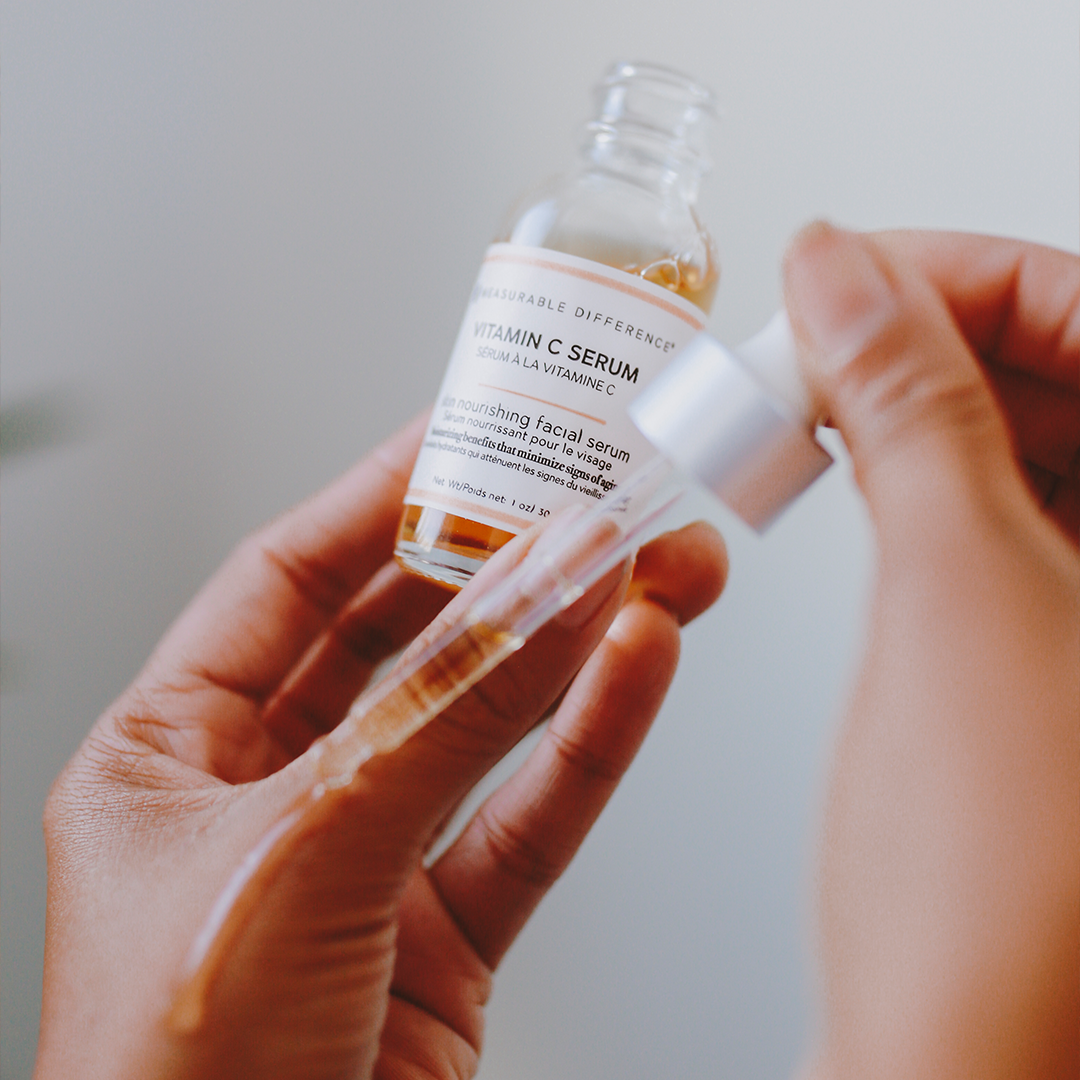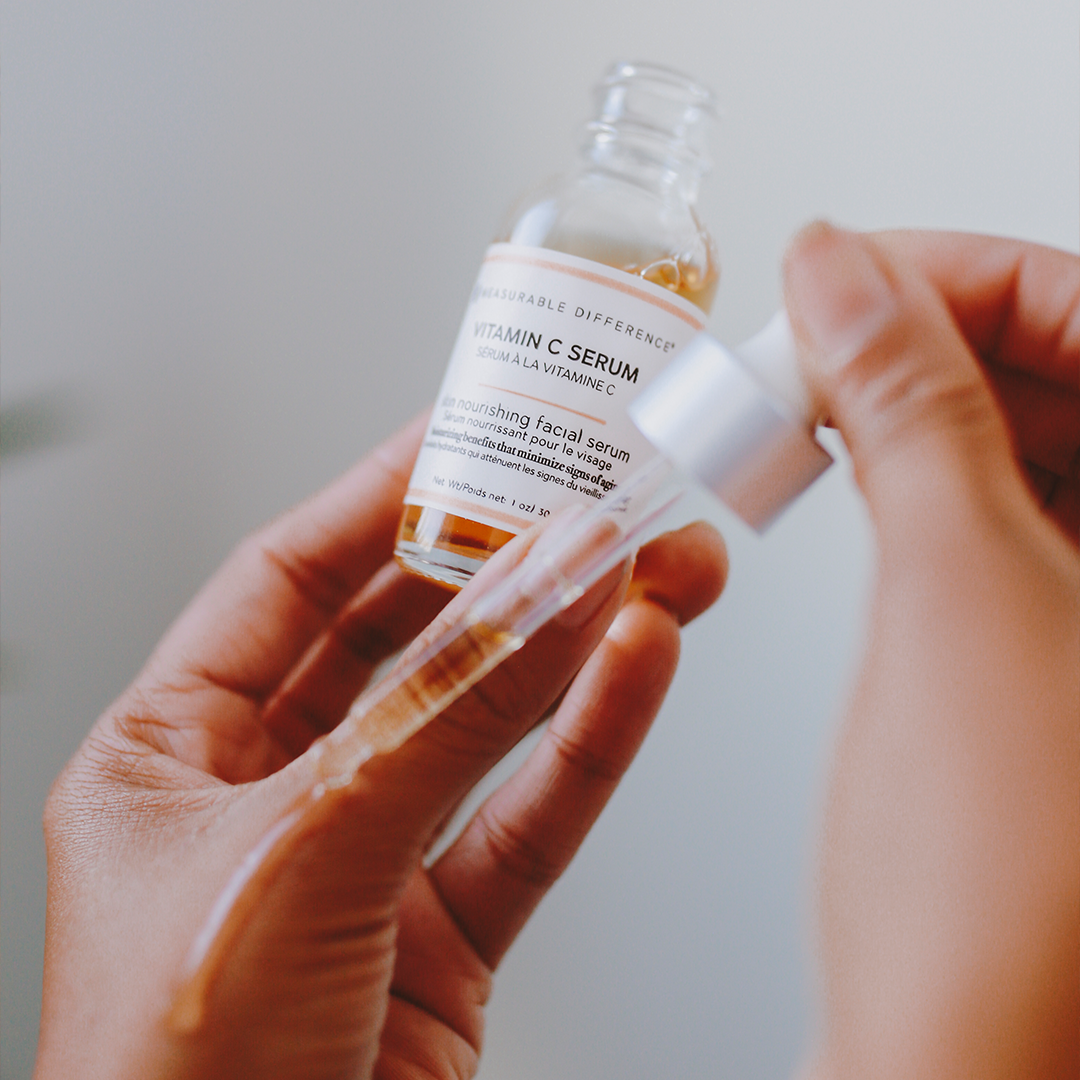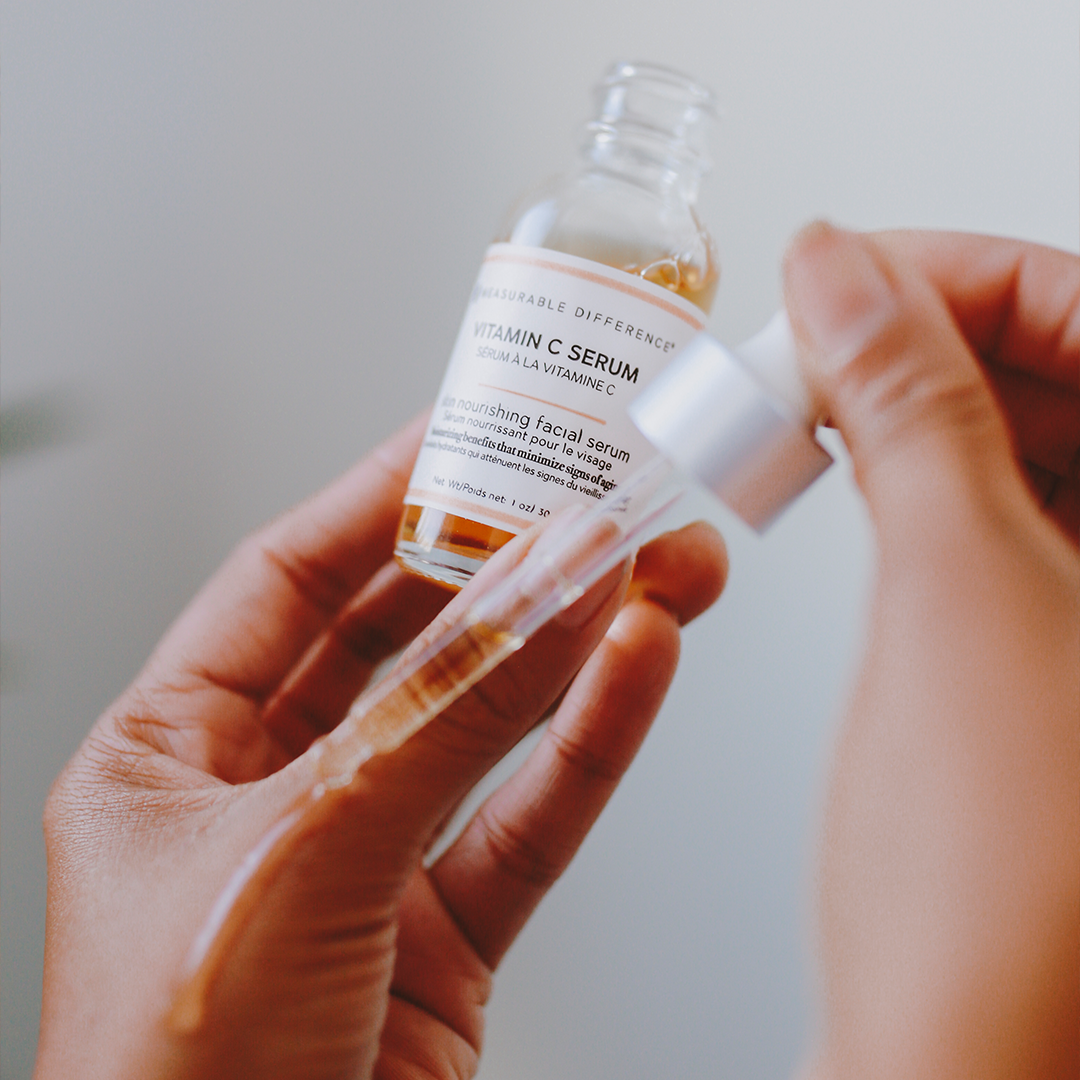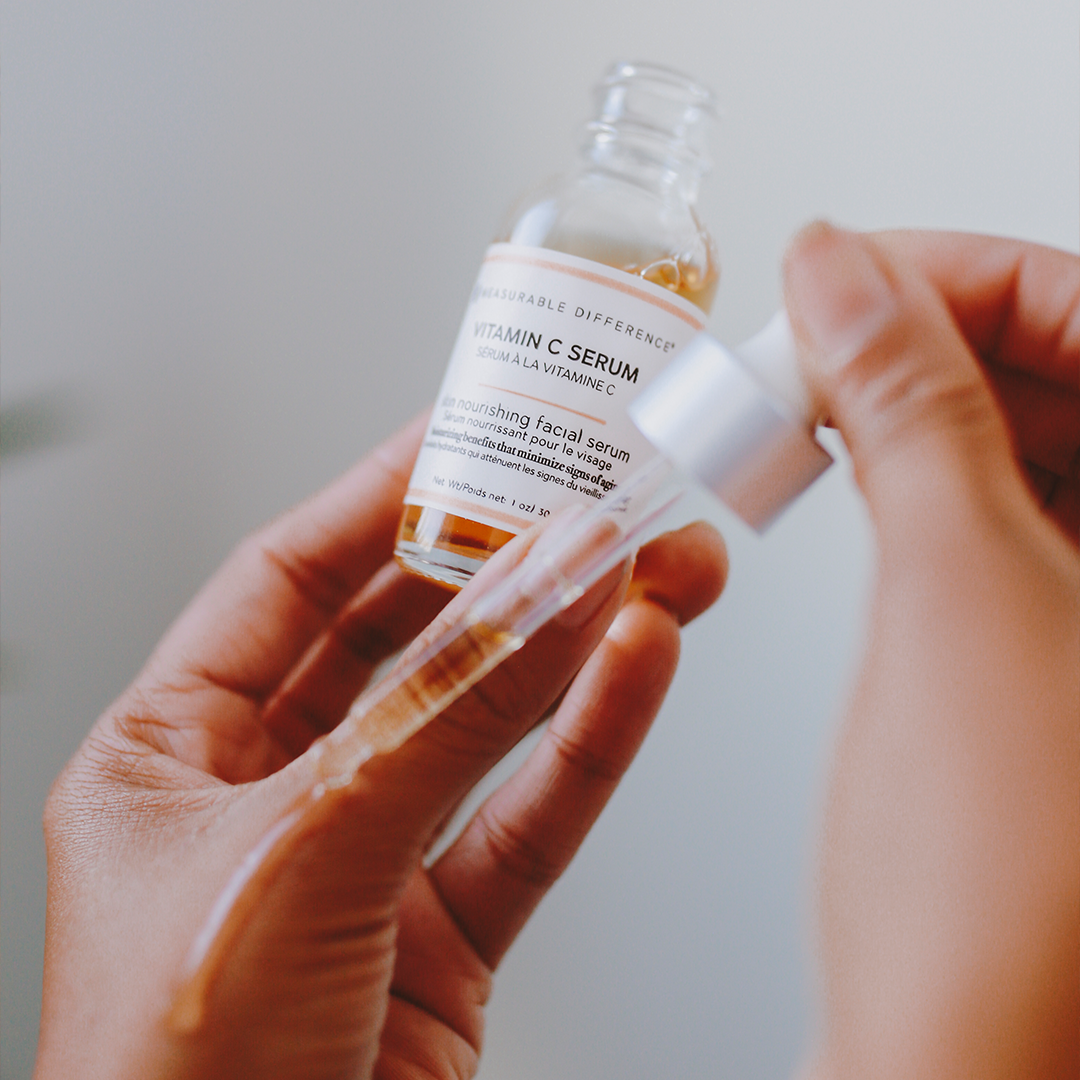 Vitamin C Serum
OUR MEASURABLE DIFFERENCE
A lightweight serum that works to give your skin its most glowy & radiant, smooth & even complexion with a stable and potent Vitamin C and with long-lasting hydration from moisture attracting Hyaluronic Acid.
 HOW TO USE
Apply a few drops after cleansing and toning steps before moisturizer as part of your twice daily skincare routine.
 ESSENTIAL INGREDIENTS + BENEFITS
ASCORBIC ACID (Vitamin C): An efficacious yet stable form of Vitamin C that brightens and evens the skin while providing antioxidant benefits.
HYALURONIC ACID: A moisture magnet ingredient that attracts and gives plumping hydration to the skin.
 CONCERNS WITH
Dullness, Dehydration
 WHAT SKIN TYPES
Suitable for all skin types
 WHEN TO USE
AM/PM
After cleansing and toning steps
KEY INGREDIENTS: Aqua (Water), Butylene Glycol, Polysorbate 20, Phenoxyethanol, Sodium Hyaluronate, Aloe Barbadensis Leaf Juice, Ascorbic Acid, Tocopherol, Citrus Sinensis (Orange) Peel Extract, Citrus Reticulata (Tangerine) Peel Extract, Citrus Aurantifolia (Lime) Oil.
Please be aware that ingredient lists may change or vary from time to time. Please refer to the ingredient list on the product package you receive for the most up to date list of ingredients.
Es lo mejor que eh probado. Un producto muy bueno recomendado 100%
Vitamin c serum
Yes indeed I wasn't disappointed. The serum is very good. It hydrate my face and keep it glowing. I use along with the daily serum which is also very active and the vitamin c cleanser for my entire body.
I had a skin break out and I have been using the cleanser as body wash along with tea tree oil to clear out and it has done just that. Thanks measurable difference. I love all my goodies and the surprised gifts.
i think there's a new formula?
i had an older bottle of this that i received from my mom as a gift, and i was in love with the smell - it was a thicker and more opaque white serum. i used it up and wanted to get some more so i ordered it and they had changed the formula completely to a thin orange alcohol consistency that doesn't smell very good. i was really excited for the previous one and im definitely not as keen on the new one.
Love it
Yes to vitamin c serum. Quick absorbing and leaves skin brighter, more supple and youthful. Layered well with my other skincare products.
Great results
I love how my skin looks in just 2 weeks from using MD's Vitamin C serum . It is really gentle . Not crazy about the scent but who cares if it really helps improve the skin!!
Love !
I love how bright this product has made my skin. I'm usually very allergic to vitamin c but this serum has been so gentle on my sensitive skin. It has made my skin look and feel amazing
Amazing!
My skin has looked and felt so much better using this product!
This stuff is 🔥
I love this vit c serum it goes perfectly under my moisturizer in the morning and doesn't love a sticky tacky residue